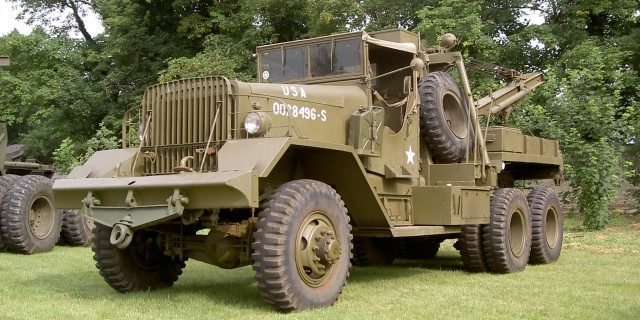 History
Ward LaFrance was originally an American manufacturer of fire trucks and equipment founded by Addison Ward LaFrance in 1916 in Elmira Heights, New York. Despite its name, Addison Ward LaFrance was American. Like most "LaFrance", a fairly common name in the United States, Addison Ward LaFrance was probably of French origin but with a difficult name to pronounce for Americans: as often, what was a nickname became in the end a family name. The company has no direct link with the equally famous builder "American LaFrance" except that it was formed by a member of the same family. Ward LaFrance ceased operations in 1979.
The truck, heavy wrecker, 10-ton, 6×6, M1 of the U.S. Army was built by the company Ward LaFrance and by the famous firm Kenworth (Kenworth 570).
Ward LaFrance M1A1 is an evolution of the model M1. Crane winch capacity : 47,500 lb (22 t). The crane could lift and put in place a Sherman turret (17,600 lb / 8 t) The M1A1 has a torpedo cab, unlike the M1.  It has a front winch of 20,000 lb capacity. This heavy wrecker was designed to lift and tow disabled heavy vehicules. Approximately 5,000 M1A1 came out of the assembly lines.
Technical data
Engine: Continental R22 gasoline, in-line 6 cylinders over-head-valve, 501 cu.in (8.2 l), 133 hp, 2400 rpm Fuel consumption : 2.5 mpg (95 l/100Km) Maximum speed : 45 mph (70 km/h) Net weight : 27,330 lb Length : 348" (8.84 m) Width : 1001/4" (6.35 m) Height : 122" (3.10 m) Fuel capacity : 100 gal (380 l)