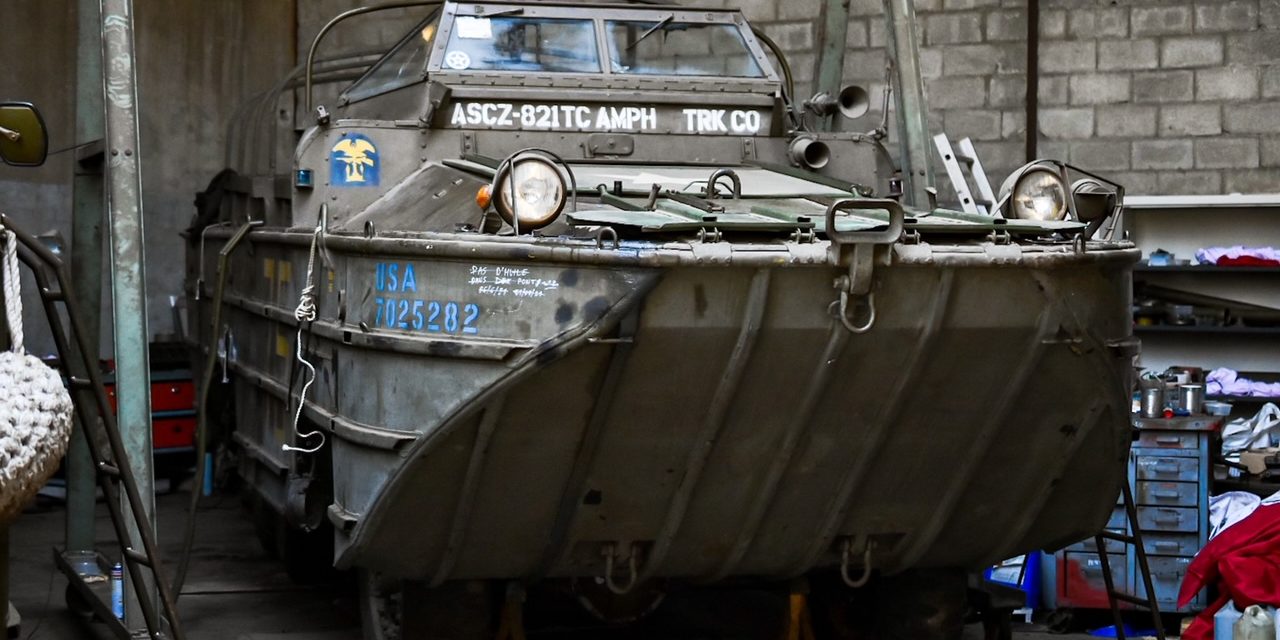 History
The first prototype was designed on the basis of GMC AFKWX (Cab Over Engine). It is is a threesome that presided over its development: Rod Stephens Jr. of the firm Sparkman & Stephens Inc. who was designer of yachts, Dennis Puleston, an English navigator who resided in the US and Frank W. Speir, a Reserve Officer at the Massachusetts Institute of Technology (MIT).
The GMC DUKW 353 showed its capabilities during a sea trial when it managed to save seven coastguards in rough seas when their boat ran aground, proving its effectiveness.
The final design which was put into production was upgraded by engineers of Yellow Truck & Coach Manufacturing Company of Pontiac, Michigan. It was based on the GMC CCKW (For the sake of knowledge, note that the Yellow Truck & Coach Co was founded by John D. Hertz who founded the famous car rental company in the 1950s).
The acronym DUKW refers to project identification at General Motors Corporation: D for the design year (1941), U for Utility, K for all-wheel drive and W for dual rear axle.
The DUKW was quickly dubbed DUCK (Duck) by the soldiers. This craft can carry up to 5,000 lb (2.3 t) or 25 equipped soldiers. Widely used in amphibious operations, including the Normandy landing, its great maneuverability made it fit to perform shuttle between the very large transport ships and the beaches or to cross the rivers and travel long distances on roads.
Easy to produce and maintain because using the same mechanical components as the GMC CCKW 353 (banjo axles), it was manufactured from 1942 to 1945.  21147 were produced. Although one could sum up the craft as being a classic GMC CCKW 353 with the addition of a waterproof shell, the differences due to this adaptation are still numerous. Chassis, engine, clutch, transmission, transfer case and banjo axles are those of the CCKW, although the banjo axles are adapted to receive the water tight shaft tunnel.
Excluding the hull, propeller, rudder and anchor that are the immediate distinctive features of this "truck", a significant difference from the CCKW is the presence of a compressor to allow control of the tire pressure. This provision was first made possible by the inventiveness of Speir. The compressor finding place in the front compartment, the drive shaft extends the engine crankshaft through the radiator. Because the engine is enclosed in the shell, the cooling is provided by a flow of air sucked behind the crew seats and rejected by two large side vents, one on each side. Adjustable deflectors in these vents allowed to send some of the hot air to the bilge to prevent the two bilge pumps from freezing in winter conditions.
Other notable features are:
control panel extension due to the specifics of the truck:

joystick "inflate – 0 – deflate" for centralized control of the inflation-deflation of tires,
air pressure dial 0-150psig (0-10bar)
rotational speed dial for the propeller (27 rpm max)
tires inflation pressure dial "sand or mud/coral/highway" (12psig for sand 45psig for the road (0.8 bar to 3.1 bar))
Compass (3 types were used: Hull, Pioneer, Sherill)

Air bottle serving as a buffer for tires inflation (inside the hull above the front right wing)
individual control of the tire pressure (6 control valves under the passenger seat)
specific axle shafts studs to allow the mounting of the rotating tire air supply devices (Speir system)
rudder control cable reeled on the steering column shaft
since there is no possibility to manually crank start the engine (especially when at sea but not only), the propeller shaft is equipped with a large cogwheel. A long lever can be engaged in it to jerk the shaft, thus the engine.
Gear box propeller on the main transmission (control between the seats, "forward – 0 – reverse")
thrust bearing on the propeller shaft to transfer the thrust to the hull
2 bilge pumps (front bay and cargo bay, controls located under the driver's seat) with suction strainers (total capacity: 300 gal / 1,135 litters per minute) (standard equipment of the truck also includes a large hand pump)
the winch, actuated by the gearbox PTO, is located at the rear of the vehicle (whereas it is at the front on a CCKW). The cable can however be returned to the front trough a winshield opening that also guides it.
The battery is in the engine compartment (on the chassis right side for CCKW)
exhaust pipe is in the front compartment (to the left of the chassis on CCKW)
fuel tank is in the rear compartment (on the right side of chassis on CCKW)
Brakes Hydrovac assistance can only be a "second model" (an additional cross beam on the chassis that does not exist on the CCKW prevents the mounting of a "first model" Hydrovac)
Technical data
Engine : GMC 270 valve-in-head, 6 cylinders in line, 269.5 cu.in (4.4 l), 104 hp at 2 750 rpm Transmission : 6×6, 5 speed/transfer 2 speed Winch capacity : 10,000 lb (4.5 t) Length : 3721/8" (9.45 m) Width : 96" (2.44 m) Height : 1061/16" (2.70 m) Ground clearance : 111/4" (28.5 cm) Weight : 14,500 lb (6,58 t) Payload : 5,000 lb (2.3 t) Maximum speed Road : 50 mph (80 km/h) Water : 5.4 mph (8.7 km/h) Range on land : 240 miles (386 km) Range in water : top speed 30 miles, cruising speed 50 miles