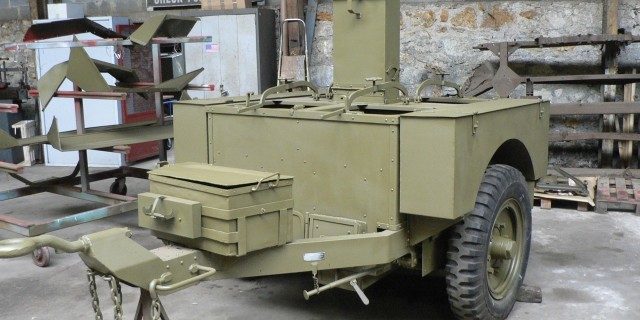 History
This mobile food kitchen is a model manufactured in 1916 ; one item is shown at the WWI museum in Meaux. This kitchen was, during this period, horse-drawn, fitted with removable carriage arms. This model was subsequently modified in 1936, then again in 1938.
Various manufacturers produced it:
– Compagnie générale de construction Atelier de Saint Denis.
– Avis (Atelier de Vincennes).
– Atelier d'Orval Maguin.
– Somua.
Around 3500 « Meals on wheels » have been built for the French Army.
Technical data
This mobile kitchen can feed around 200 people.
It includes 2 firewood stoves, 2 preheating wood stoves and 4 pans.
Empty weight: 2,300 lb (1,040 kg)
Gross weight: 3,200 lb (1,450 kg)
Length: 134″ (3.40 m)
Width: 77″ (1.95 m)
Height: 61″ (1.55 m) chimney folded, 83″ (2.10 m with the chimney raised)
Fuel : wood only.
During the 1960s-1970s: petrol burner (2).