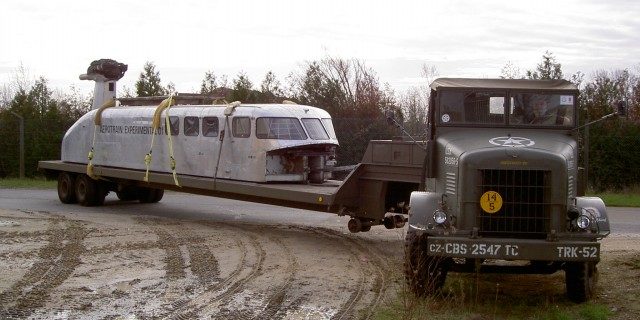 History
The C-2 semi-trailer was built by Trailer Co. Of America for US Army Air Force, to transport aircrafts. It was normally associated to the wrecker trucks built by Bierdmann (C-2), Corbitt (54SD6), and Federal (606).
The C-2 trailer was built in two lengths: 25' and 40'. A dolly could also be used to transform the semi-trailer in a trailer.
Our trailer was used appropriately as an "aircraft" transport, as it was used to transport the hovertrain, a train using aircraft technology.
(photos d'époque : twinbeech.com)
Technical data
Total length: 599″ – 23,5m
Length: 480″ – 18,9m
Weight (empty): 13.790lb – 6,26t
Payload: 25.000lb – 11,34t
Height: 48″ – 1,22m