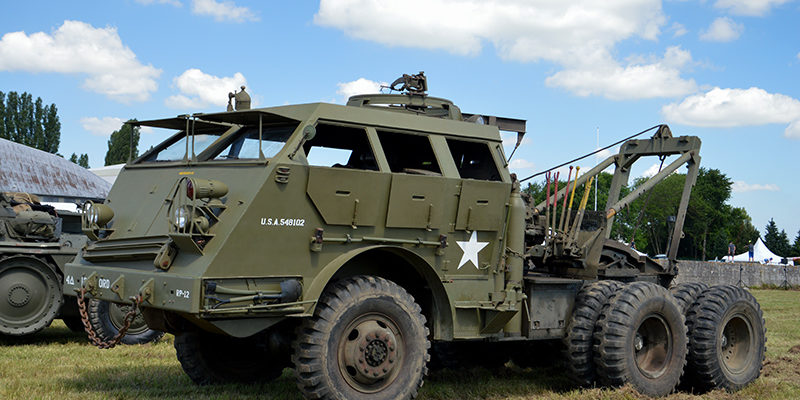 History
The US getting prepared for their entry into the war against the Germans, American observers highlighted the need to develop a recovery tractor to clear the tanks and other heavy vehicles immobilized on the battlefield. After many trials, it was decided to design a prototype truck from a 6×6 of the mining firm Knuckey Truck Company. The latter did not have the necessary production capacity. The production contract was awarded to Pacific Car and Foundry. Production under the official designation "M26 tank transporter" began in April 1943. The M25 was the combination of the 6×6 truck and the Fruehauf trailer M15. There were two versions of the M26, the second being produced starting from the 735th vehicle. It was equipped with a conventional, non armored cab, it was referenced M26A1. The reason for this change was the fact that the armored vehicle was not really used in combat zone, under ennemi fire. Moreover, the armored cab added a weight of 6,000 lb (2.7 tons) on the front axle which contributed to rapid wear of the tires.
L'occasion s'est présentée pour l'Univem de récupérer un deuxième M26.
Plus d'information sur la restauration de ce 2ème Pacific
ici
.
Technical data
The M26 was such a massive and impressive vehicle that, as soon as it arrived on the battle field the soldiers quickly dubbed it the Dragon Wagon. This huge truck was driven by a model 440 Scott Hall gasoline engine, six-cylinder in line, with a 1,090 cu in (17.9 liters) displacement, developing 240 hp. M26 fuel consumption could reach the extravagant figure of 1.8 mpg (150 liters per 100 km). The M26 is therefore a recovery vehicle for heavy equipment, especially tanks, it was equipped with a front winch of 16 tons and two rear winches of 27 tons each.