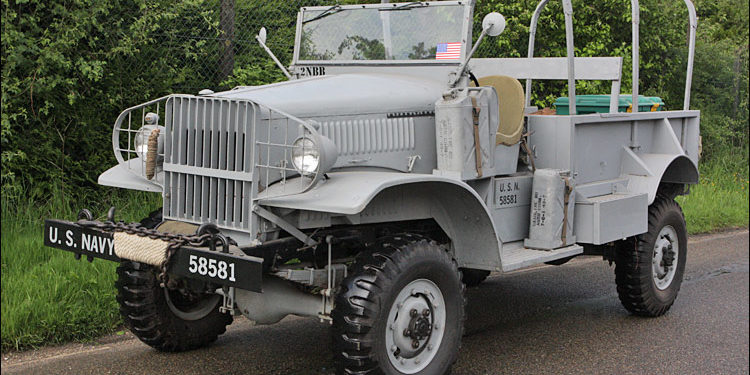 History
The International Harvester Company, IHC, often simply referred to as "International", originates from the merger in 1902 of the McCormick Harvesting Machine Company and Deering Harvester Company with 3 other small companies specializing in agricultural mechanical equipment.  During World War II, IHC has attained the rank of 33rd supplier for the US military. Some of their productions were specific to the Marine Corps and for the US Navy. In the class of trucks "2 ½ ton, 6×6", the equivalent of the GMC CCKW, IHC produced a very successful truck: the M-5 H-6. 36,000 units were produced, it was equipped with Thornton differential locks on the rear axles, a Hendrikson design with walking beam.
In the class of trucks "1 ton Cargo Truck" IHC began by delivering the M1-4, only 231 units were produced, plus 892 as ambulances (1941-1943). Its successor, the M2-4, was more successful with 9,101 units produced in the Springfield, Ohio plant.
There was two versions : with and without winch. The chassis were different: the winch was not on a riveted addition to the chassis as on the GMC CCKW.
The letter M was for "military", 2 indicating the payload of 2,000 lbs and 4 indicated a 4WD vehicle. M-1-4 was equipped with the 213 cubic inch engine "Green Diamond Engine" while the M-2-4 had a bigger engine of 233 cubic inch "Red Diamond Engine". The tires were larger on the M2-4 : 9.00-16 instead of 7.50-16.
The first M2-4 models were equipped with 6V electrical system, 12V later on and the wheels had 6 studs at the beginnig of production, 5 later on.
Technical data
Engine : gasoline, 93hp, 6 cylinders in line, over head valves
Transmission : 4 speed x 2 with transfer
Dimensions : 198″ x 85″ x 65″ (5,02 m x 2,16 m x 1,65 m)