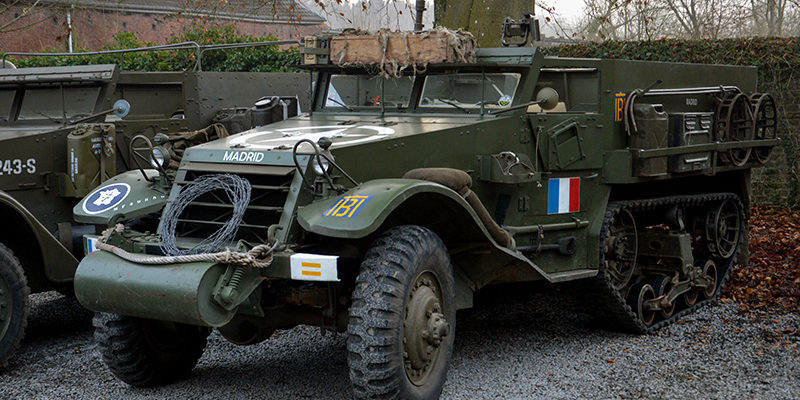 History
During the war the companies responsible for manufacturing the half-track personnel carriers (White, Autocar, and Diamond T) could not ensure the required production rate. A fourth firm was approached: IHC, International Harvester Company. IHC will build the M5, based on the M3, but with some significant differences. The fenders are made from a flat metal sheet that gives more room to the front wheels. The armored body of the M5 is made of plates welded together, giving it a smoother appearance than on the M3 and M16 where the plates were bolted together. Also, the back corners of the armored body are made of rolled plates giving them a round shape whereas on the M3 and M16 they form sharp angles.
The construction of the armored body with welded sheets reduced the risk of assembly screws turning into lethal projectiles when they were directly hit. However, these weldable steel plates being less resistant, they were thicker. Therefore the M5 benefited of a strengthened chassis and of body reinforcements. It was therefore heavier but its performance remained however comparable to the M3 and M16.
Technical data
Engine : International Harverster Company RED-450-B, 6 cylinders in line, gasoline, side-valve, 143 hp at 2,700 rpm
Weight : 9,8t
Armor : 6.5–13.5 mm (0.26–0.53 in)
Armement : 1 machine gun M2 (12,7mm) + 2 machine gun M1919 (7,6mm)
15,000 units produced with many variants.
Gasoline : 60 gallons (230 l), range 125 miles (200 km)
Speed : 42 mph (68 km/h)