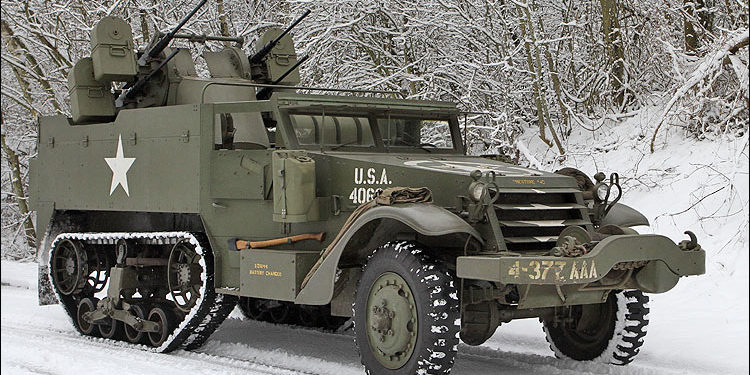 History
The story begins with the tests conducted by the US Army in the 1930s to evaluate the performance of the half-track concept.
The first standardized series M2 and M3, the M3 with a slightly longer body, resulted from these tests. 41,000 will be produced starting in 1941 by Autocar, Diamond T and White. The M2A1 and M3A3 versions were equipped with a machine gun ring. The majority of these half-tracks were equipped as "Self-Propelled Artillery" with 105mm Howitzer or gun.
The M3 will be the basic design for the series M15 GMCM (Combination Gun Motor Carriage) and M16 MGMC (Multiple Gun Motor Carriage).
The M16, dubbed "meat chopper" , was ruthlessly efficient to shoot down low-flying aircraft with its turret Maxson M45 Quadramont equipped with four 0.50″(12.7mm)Browning machine gun.
The White company is in turn rooted in a family story and steam engines. In 1898 Thomas H. White bought a steam traction engine on which he found the boiler unreliable. His son Rollin H. White patented a new design while his brothers Walter and Windsor joined in by providing talented management and sales organization, beginning a great industrial adventure.
Technical data
White 160AX engine, in line 6-cylinder side-valve, gasoline, 385 cu in (6.3 liter), 147 hp
Speed: 45 mph (72 km/ h)
Weight: 21,000 lbs (9.4 t)
5,700 units produced