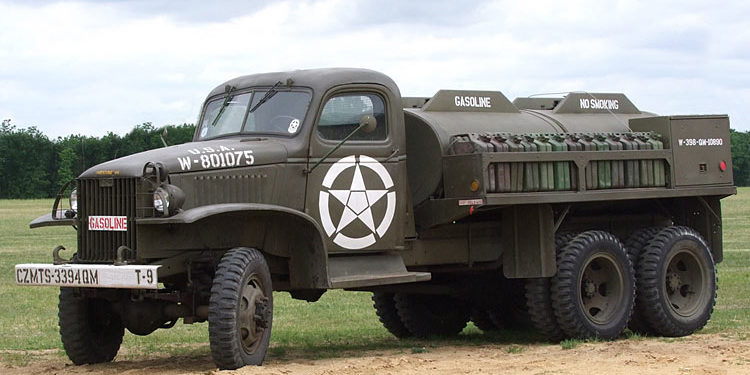 History
With a total of 562 500 units produced, the GMC CCKW is the WWII emblematic light truck, released in numerous variants : cargo, gasoline tanker, water tanker, workshop, artillery tractor, compressor, tipper truck, amphibious truck etc….
Univem's "gasoline" GMC is a Timken split axle model. At the time it was built, a net purchase price of 2 505 USD made it the most expensive version of the first GMC series.
Its two tanks hold 750 gallons of gasoline (2840 liters). Additionally, on each side of the truck two racks hold 26 jerrycans, 5 gallons each (130 gallons/494 liters).
Distribution to users was simply based on gravity. Specific tooling, pipes, valves were stored into stowage compartments located at the end of each side rack. All these tank trucks were fitted at the back with a small hanging chain, the purpose of which being to discharge static electricity.
Technical data
Maker: GMC
Designation: CCKW 353 D1
C: designed in 1941
C: conventional cab
K: all-wheel drive
W: dual rear axles
353: GMC type, long wheel base
D: Gasoline tanker, without winch (E : with winch)
1: Timken split axle
Empty weight : 10,360 lb (4700 kg) Loaded weight  : 15,430 lb (7000 kg) Payload : 5,070 lb (2300 kg) Lenght : 257" (6.52 m) Width : 91" (2.31 m) Height : 87" (2.22 m) Ground clearance : 9.8" (0.25 m) Gasoline tank capacity : 2 840 liters
Engine GMC Model 270, 91 hp (68kW) Cubic inch displacement : 268.5 cui (4.4 liters) 6 cylinders-in-line/overhead valves/2 per cyl Fuel : gasoline fuel consumption : 6 to 7 mpg (30/40 liters/100km)
Electricity : 6V/1 battery DELCO REMY 140 A/h Braking : Hydraulic, with vacuum assist (Hydrovac) Rims : 6.00×20 Tires  : 7.50-20 Shielding : none weapons : none Fuel tank : 40 Gallons (150 liters) Speed : 45 mph (75 km/h) Ramp : 65% Turning radius : 42" (10,66 m) Operational range : 240 miles (385 km)