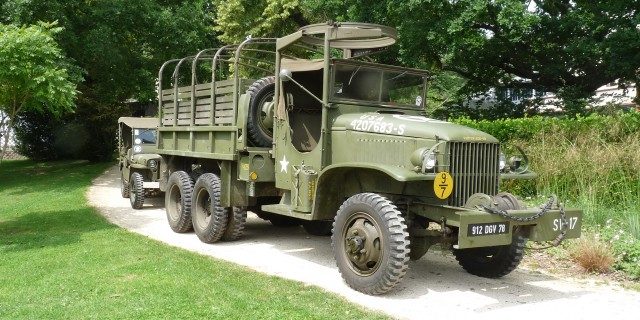 History
With a total of 562 500 units produced, the GMC CCKW is the WWII emblematic light truck, released in numerous variants : cargo, gasoline tanker, water tanker, workshop, artillery tractor, compressor, tipper truck, amphibious truck etc….
There were two wheelbases, the short Model 352 (145 in / 368 cm) and the long Model 353 (167 in /424 cm) The GMC CCKW 352 was designed as artillery prime mover for the 105mm howitzer.
The CCKW 352 has several distinctive features : shorter wheel base, gas tank behind the cab and perpendicular to the chassis, two spare tyres mounted behind the cab crosswise on the truck. They could be mounted on the front axle to ensure a better grip on rough terrain, more difficult to identify are the strengthened differential gears adapted to the heavy load drawn by the truck when hooked to the howitzer.
Our GMC CCKW 352 is most of the time equipped with a gantry crane that can easily be removed (Set number 7). This crane helps us very much when we have to carry heavy parts to professionals for renovation. Originally during WW2, the CCKW 352 were not equipped with such a crane that was installed on long wheelbase CCKW 353.
Technical data
Manufacturer: GMC
Designation: CCKW 352 B1
C : designed in 1941
C : conventional cabin
K : all-wheel drive
W : dual rear axles
353 : GMC type 352 makes reference to a short wheelbase, B1 winch model, fitted with a Timken split axle.
6×6 truck, 5 speed x 2 with transfer case
Year of production : 1943
Gasoline engine : 6 cylinder in line, valve-in-head type
Fuel consumption : 7 to 8 mpg (35 to 40 liters/100km)
Electricity equipment : 6 Volts
Empty weight : 5,5 tons