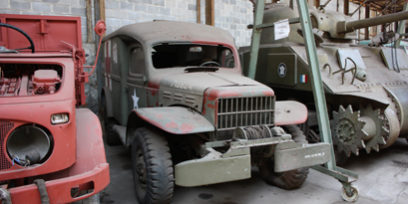 History
John Francis Dodge was born in 1864 in Michigan and his brother Horace Elgin in 1868.  Early on they both showed a great interest in mechanics.  They first worked in Canada where they were able to rent an area within the company that hired them and started by manufacturing bicycles.  In a time of booming auto industry they soon reoriented their activity, meeting success with their customers.  They returned to the USA in 1901 where they met Henry Ford.  Their cooperation, the Dodge brothers having bought shares of the Ford company, was the real start of their great industrial adventure. The Dodge WC series was a range of light military trucks produced by Dodge during World War II. The series included 4×4 and 6×6, with or without winch, weapon carriers, telephone installation trucks, ambulances, reconnaissance vehicles, mobile workshops and command cars. WC was a Dodge model code: W for 1941 and C for half-ton rating. The C code was retained for the ¾ ton and 1½ ton 6×6 Dodge.  It was preceeded by the VC models.  By a play of words, WC was also to mean Weapons Carrier.
The Dodge WC54, 3⁄4 Ton, was a WC series 4×4 light truck developed during World War II by Dodge. It served as the main ambulance used by the US army from 1942 to 1945 with some used as late as 1953 during the Korean War by the U.S. Army Medical Corps. At times, several were also used by the US Signal Corps as radio vans.
Based on the 3/4 Ton WC51 Dodge chassis, it featured a longer wheelbase and adjusted suspension to make its ride softer. The closed sheet-metal body was made by Indiana based Wayne Body works. It had room for a driver and four to seven patients plus a medic. If the fold-away bunk stretchers were used, four patients could be transported lying down. Because of its intended role, the WC54 featured a large matrix cab heater fitted on the firewall, providing comfort for patients and crew. It was fitted with a foldaway step to its rear to allow easier access for stretcher bearers and injured personnel.
In accordance with the Geneva convention that protects the health staff, all vehicles were labelled with large red crosses painted on a white base on all the sides of the ambulance as well as the roof.
Technical data
Production: 22,857 units
Engine: Dodge T214, 6 cylinders in line, 230 cu in (3.8 liters), 92 hp, side-valve engine.
Max speed: 53 miles/h (85 km/h)
Autonomy: 235 miles (380 km)
Consumption: 9.5 mpg (30 l/100 km)
Weight: 5,910 lb 2,680 kgs
Length: 194.5 in (4,940 m)
Length : 194.5 in (4,940 m)
Height: 90 in (2,286 m)
Wheelbase: 121 in (3,07 m)
Armament: none
Capacities:
Gasoline:112 l Oil:5 l Water:8 l