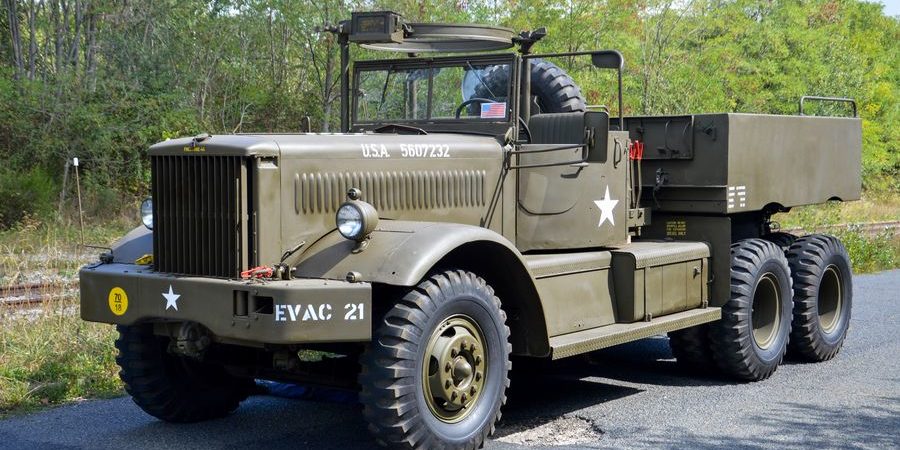 History
The name of the company was created when the father of Charles Arthur Tilt, shoe manufacturer, chose a diamond as the emblem of the quality of its production. The "T" for Tilt was thus set in a diamond that was originally painted in gold. His son growing up in a workshop and machinery environment soon developped an interest for mechanics. He built his first car in 1905. A turning point was taken when a loyal customer asked for a truck in 1911. It was such a success that orders piled up and Charles Arthur Tilt decided to abandon car manufacturing to build only trucks. Known for their reliability and robustness, Diamond T was approached at the beginning of the war when the British asked the US to provide a tank transporter. Designed for the British army, this was the only American truck among the great classics of WWII to be a diesel model.
It was only a tractor : its rear ballast box could be loaded with any material available in order to load the axles: stones, sand, concrete slabs, iron pigs…
Listed as M20, it was part of the truck-trailer, 45-ton, tank transporter M19. Its purpose was to recover and transport damaged tanks and materiels weighting up to 90,000 pounds in connection with Trailer, 45-ton, M9 manufactured by Rogers Co.
A 40,000 lb (18 t) winch located between the cab and the ballast could load a broken down tank on the trailer. Referenced as model "980" by Diamond, an upgraded version was later released under the reference "981": the improvement concerned the winch with the possibility to direct the cable toward the rear as well as the front of the truck. The model 981 is therefore recognized by its front bumper that includes a cable outlet with guide rollers.
These trucks, like the Pacific, were very popular after the war with heavy haulage companie. They often worked as multiple units pushing and pulling the load. The companies then chose for their Diamond T 980/981 a larger tire size than originally designed to get them on more homogeneous gear ratios with those of the Pacific.
Technical data
Design year : 1940
Production : 1941-1945
Numbers built : 6,554
Weight : 26,650 lb (12,090 kg) empty, 45,000 lb (20,000 kg) loaded
Length : 280 in (7.1 m)
Width : 102 in (2.6 m)
Height : 101 in (2.6 m)
Engine : Hercules DFXE, diesel valve-in-head, 185 hp at 1600 rpm, 895 cu.in (14,6 l)
Transmission : 6×4, 4 speed x 3 speed auxiliary
Speed : 23 mph (37 km/h)
Air brakes : Bendix-Westinghouse
Operational range : 300 mi (483 km)
Maximum recommended towed load (pintle hitch): 115,000 lb (52 t)
Fuel consumption (loaded) : 2 mpg
Winch 40,000 lb (18 t)