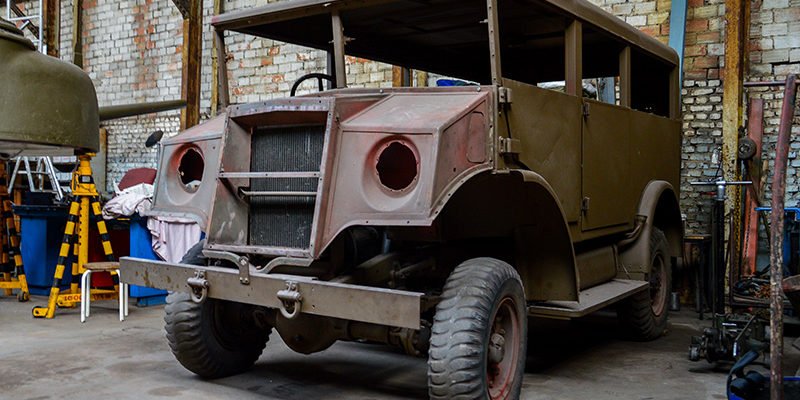 History
Our Chevrolet HUP (Heavy Utility Personnel), undergoing restoration, belongs to the family of the Canadian trucks designed in Canada during WWII. 12,000 only were made, with specific features as compared to other similar vehicles (shorter drive axles, different braking system).
This first HUP model had no spare wheel. They were, as a number of Canadian vehicles of the same size (including Ford) equipped with shielded tires. Their sidewall was nearly 3 cm (13⁄16in) thick. If the tire was hit by a bullet or shrapnel, the vehicle could move far enough to escape the danger zone.
The HUP was part of the last batch of Canadian vehicles reformed by the French army in Dieppe in the early 1970s.   Our HUP was bought by a Dieppe museum where it has been preserved from the destructive effects of the sea air thanks to its small size : it could be sheltered indoor during winters.  Bought by our club in the late 1980s it is undergoing a complete restoration that requires many parts extremely difficult to find nowadays.
Technical data
Chevrolet 8445/C8A
length: 163″ (4,14 m)
width: 79″ (2,01 m)
height: 90″ (2,29 m)
weight: 6330 lbs (2,87 t)
engine: 6 cylinders in line valve-over-head, gasoline, 85 hp à 3400 rpm
4 speed, transfer case without reduction that engages the front axle
single disc clutch
hydraulic brakes